brecon beacons dark sky experience
Brecon Beacons Dark Sky Experience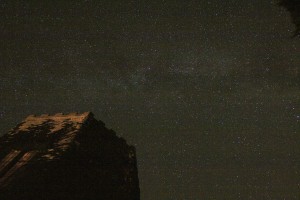 Discover the night sky from the Brecon Beacons with a telescope and experienced astronomer. Dark Sky Telescope Hire organise private stargazing experiences in the Brecon Beacons for individuals, couples, families, and small groups. We can come to your back garden, holiday accommodation or other outdoor venue with a telescope and our astronomy knowledge for a 1-hour or 2-hour stargazing experience. Alternatively we can meet you at the Brecon Beacons National Park Visitor Centre near Libanus – one of the darkest places in the Brecon Beacons – for your private stargazing experience.
On a moonless night from the Brecon Beacons the sky sparkles with thousands of stars. The Milky Way is easy to see, and with one of our large telescopes we get to see star systems, star clusters, nebulae and galaxies millions of light years away in amazing detail. One of our experienced astronomers will act as your guide and provide insight into the views that you're seeing through the telescope.
Please use the contact form to inquire about price and date availability, or email us: info@darkskytelescopehire.co.uk
Brecon Beacons Dark Sky Accommodation at Llanerchindda Farm
Set within 50-acres of stunning Welsh countryside, Llanerchindda Farm offers catered and self-catering accommodation
to individuals, families and small groups of up to 35 people. Dark sky accommodation comprises rooms in the main guest house, as well as a self catering cottage to sleep up to 6 people, and self catering farmhouse that can sleep up to 11. A restaurant serving breakfast, dinner and drinks is available to guests and visitors in the main guest house. To find out more about dark sky accommodation at Llanerchindda Farm please visit the Llanerchindda Farm website.
Stargazing Experience Nights at Llanerchindda Farm
Experience the wonders of the universe from Llanerchindda Farm with astronomer Seb Jay as your private guide. Seb will take you on a laser-guided tour of the stars and constellations that we can see in the night sky with the naked eye. He'll then use one of his large telescopes to take you on a journey across the cosmos. Along the way Seb will show you multiple star systems, star clusters in the Milky Way, nebulae where new stars are being born and the haunting gas rings of nebulae left by stars that have died. He'll also take you out beyond our own galaxy to visit other galaxies up to 60 million light years away.
Your stargazing experience can be designed around your stay at Llanerchindda Farm. We recommend starting at around 8:30pm / 9pm (or later during the summer) to enable you to first enjoy your evening meal at the Farm.
For a stargazing experience night price and to check availability please contact Seb using the contact form.
Telescope Rental at Llanerchindda Farm
A 6-inch 150mm Skywatcher dobsonian is available for guests and visitors to hire at Llanerchindda Farm. The telescope comes complete with a set of eyepieces and stargazing guides (updated monthly) to help you make the most of your Brecon Beacons Dark Sky Experience. Full telescope set-up instructions are included. The telescope is stored at Llanerchindda Farm, and can only be used on the Farm's premises. The Farm has a designated observing area, but you are also welcome to use the telescope from the main patio area overlooking Cynghordy Viaduct. It is a stargazing experience that you'll never forget!
Telescope hire price at Llanerchindda Farm is £10 per night or £30 per week. Payment can be taken in advance by BACs or Paypal. Alternatively you can pay for the telescope hire in cash direct to Llanerchindda Farm on the evening of your hire.
To book the telescope at Llanerchindda Farm please contact us