Astro Sketching
Before the 1990's sketching what could be seen at the eyepiece was the main method for most amateur astronomers to capture images at their telescopes. It is only with the advent of cheaper (and more accurate) telescope drives, and easy access to digital photography technology that astrophotography has really become accessible to everyone.
While it is true that astrophotography yields more accurate detail of scientific value than sketching, it is a different experience entirely. The astrophotographers I know often bemoan the time it takes to get all their equipment working. They then spend their time sat in front of a PC screen to compile their results and process the data their cameras are capturing.
Call me unconventional but I spend much of my work day in front of a PC screen. The last thing I want to do on a clear night is continue starring at a screen! I'd rather be experiencing the real thing through the eyepiece.
And it is here where astro sketching comes into its own.
The value of astro sketching for visual observers
The best thing about skethcing what you see at the eyepiece is that it's fun. It tests your observing skills, makes them sharper and challenges you to eek out more detail than a quick first glance gives you.
The more you look at an object the more you tend to see. Some faint galaxies I've sketched have looked like a dull white blob during at first. But I challenge myself to see more. I use filters, averted vision and even cup my hands around my eyes and the eyepiece in a bid to make every photon count. When it all works and when I relax my eye into the view so my pupil is widest I can pull out some really faint detail that I wouldn't have seen otherwise.
By recording what I see on blank copier paper using a set of graphite pencils I can build up a sketch. The key is to take your time. Deep sky objects in particualr aren't going anywhere in a hurry. I've built some of my sketches up over several nights of observing it.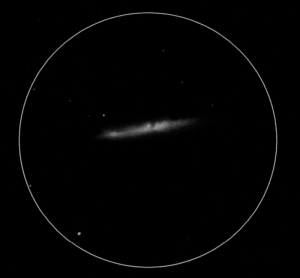 How to sketch
The best way to get started is to buy a set of graphite pencils, some paper, a rubber eraser, clipboard and a red light torch. Start by drawing some sketch circles to represent your eyepiece view. These can be as big or as small as you want. I've tended to use circles that are about 8cm diameter.
To sketch galaxies, nebulae and other fuzzies use a 4H or 3H pencil lightly to create a base. You can then build up details using softer pencils that lay down more graphite to bring out the brighter features.